The RACI Model (RACI Matrix) is a simple tool that is useful for highlighting roles and responsibilities during a project, program, or indeed any organizational change. I first came across the RACI Matrix whilst on an ITIL training course a few years ago and find them particularly useful for clarifying roles and responsibilities in cross-functional or cross-departmental projects and programs.
RACI is an acronym for Responsible, Accountable, Consulted, and Informed. The RACI Matrix enables you to identify who is responsible, accountable, consulted, or informed, for every task which needs to be performed.
Here is some more detail about what each letter in the RACI acronym means:
| | |
| --- | --- |
| Responsible | This is the person or role responsible for performing the task, that is, the actual person doing the work to complete the task |
| Accountable  | This is the person who is ultimately accountable for the task being done in a satisfactory manner. Essentially, the Accountable person must sign-off the work that the Responsible person produces. |
| Consulted | Those people whose input is used to complete the task, thus, communication with this group will be 2-way in nature |
| Informed | Those people who are informed as to the status of the task, thus, communication with this group is 1-way in nature. |
To avoid any confusion as to who is doing what, you should have just one participation type assigned to a given person for each task in the matrix. The exception to this is that sometimes the Accountable person may also be the Responsible person, that is, responsible for completing the task.
RACI Matrix Example
An example of a RACI Matrix is shown below: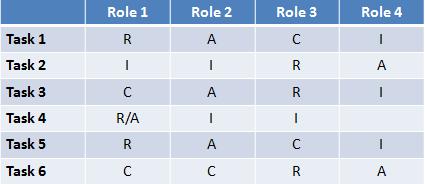 There are a number of rules you should keep in mind when creating a RACI matrix:
Only have one Accountable person. More than one and the task may not get done due to confusion
Try to limit the number of Responsible persons in a row to one – more than this and there will likely be duplication of work
A Responsible person and an Accountable person must be assigned to every row
I hope you can see that RACI matricies are simple to create yet especially powerful for clarifying roles and responsibilities across people within different parts of the organisation.
If you think about the programs or projects you run, I'm sure you'll agree that if you don't spend some time thinking about role that you and your team play in every task which needs to be performed, and clarify this in some way (hint: use a RACI Matrix 🙂 ), then it is likely gaps will appear.